WHO WE ARE
Ikeja Electric Plc (IE) is the largest Nigerian electricity distribution company. The company emerged on November 1, 2013 following the handover of the defunct Power Holding Company of Nigeria (PHCN) to NEDC/KEPCO Consortium under the privatization scheme of the Federal Government of Nigeria. The oil giants, Sahara Group and the Korea Electric Power Corporation (KEPCO) jointly own a 60% stake of IE, with 40% still owned by the Federal Government.
Ikeja Electric occupies a key position in the nation's power sector geographically, for its privileged coverage of many industrial centres. With customers spread across the Northern part of Lagos State and parts of Ogun State. Ikeja Electric has six business units across its coverage area (Abule Egba, Akowonjo, Ikeja, Ikorodu, Oshodi and Shomolu).
Within the coverage of these business units, there are various industrial areas like Amuwo Odofin, Ikeja industrial area, Ikorodu etc and in order to support the economy and business growth, Ikeja Electric provides a minimum of eighteen (18) hours of electricity to industries and manufacturers in these areas.
Ikeja Electric understands that until there is 24hour uninterrupted and quality supply, there will always be need for more work and so plans to continue to improve supply to these areas by undertaking continuous maintenance and investment in infrastructure and equipment.
Ikeja Electric as a forward-looking company is the first utility company to embrace the green initiative by going paperless in the delivery of its bills.
Key Account Management (KAM) unit is under the Marketing department of Ikeja Electric. The unit is saddled with the responsibility of managing the portfolio of high net worth consumers, ensuring the maximization of potential from each customer's account.
The KAM unit is available to provide energy management advisory services to aid in maximising energy provided.
Our Vision
The vision of Ikeja Electric is to be the provider of choice, wherever energy is consumed. We aim to provide quality and safe energy for our customers and to be recognized as a company that has the interests of her customers at heart.
Our Mission
The provision of quality and reliable services to our customers and adherence to the highest standards of safety at all times.
Our Values
The core values of Ikeja Electric are:
Service Delivery
As a Key Account customer, our promise is to deliver exceptional service. To ensure that all Key Account customers pay for only what they consume, all customers must be metered.
When we perform services for you, our staff will:
Aim to exceed your expectations

Demonstrate technical and professional competence in providing the services

Respect and maintain customer confidentiality

Be polite, friendly and be ready to meet and exceed our customer's expectations

Respond quickly to fault complaints and carry out maintenances within the shortest possible time
 Reliability
We will take ownership of resolving our customer's requests and complaints

We will look for solutions and focus on breakthroughs rather than excuses

We will provide clear time frames for actions and stay accountable to them.
Communication
As a key account customer, our promise is to maintain an open communication channel with us in a professional and efficient manner.  Our staff will be:
Courteous
Willing to assist you and be responsive to your needs
Treat you fairly and professionally
Accountable and adhere to sound business practices
The table below shows processing time service standards for our interaction with our customers. We aim to process all cases within these service standards. However, the service standards are indicative only. Individual cases may be decided in longer or shorter periods than the service standard, depending on a range of factors, individual circumstances and the complexity of each case.
Safety:
We will ensure zero fatality and accidents.
We will work within a safe environment at all times
We will assist to proactively resolve unsafe network conditions thereby reducing potential for any incident and also protecting our installations.
We will carry out continuous surveillance to avoid vandalization that may lead to energy losses that put our customers in darkness.
We will carry out awareness programmes to educate our customers on safety protocols.
TOUCHPOINT
SERVICE STANDARDS
Email
We will acknowledge E-mail requests within one (1) working day of receipt, and provide you with a likely timeframe for our full response.
Letter
We will respond to your letter within 5 working days of receiving it.
Personal Visit
We will assist you promptly:

We will serve you within five (5) minutes of your arrival, if you have an appointment.
We will serve you within ten (10) minutes if you do not have an appointment.
We will advise you, in advance, about any unexpected delays in attending to you.

Calls to Call Centre

We will respond to your calls within four (4) rings.
We will answer queued calls to our Call Centres within two (2) minutes.

Calls to Account Managers

We will be accessible by telephone during business hours.
We will return all missed calls within 24 hours

Account Managers to Customer Premises

We will ensure we arrive on time for appointments
We will let you know beforehand if we will be late or have to cancel an appointment
We will share with you minutes of what was discussed in our meeting and ensure all agreements are adhered to.
After we have performed our service, our staff will:
Seek feedback from our customer base on our performance
Review the feedback you provide to us and consider measures to further improve our service delivery
Feedbacks will be sought from the customer through:
Periodic surveys
Our whistleblowing channels, independently managed by Deloitte
www.ikejaelectric.com/whistleblowing
expressyourself@ikejaelectric.com
0800TIPOFFS (0800 847 6337)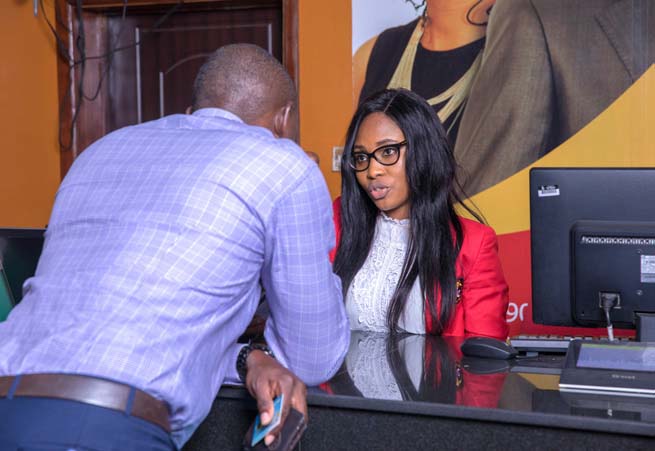 HOW WE WILL BE ACCOUNTABLE
We will:
Be open to feedback on our performance, and suggestions for improvement from our customers and make adjustments to our services based on information received.
Publish information showing levels of satisfaction on complaints received and the resolution of those complaints. Provide explanations when our services do not meet acceptable standards of quality or timeliness.
We welcome your views and comments as vital in helping us to monitor and improve the relevance and quality of our service to the community.
We will consider all suggestions fully and promptly in our planning for service improvement and, wherever possible, we will respond immediately.
We may occasionally seek your input to random surveys of how our customers perceive our services and what services are needed, including assessments of our performance.
OUR TOUCHPOINTS
We understand the different lifestyles of our customers, hence we have different touchpoints made available for easy access to us;
MDKAM email- MD-KAM@ikejaelectric.com
Phone Number : 01-7000241
IE customer care email- customercare@ikejaelectric.com
Letters
Personal visit
Phone calls (Call centre and Account Manager)