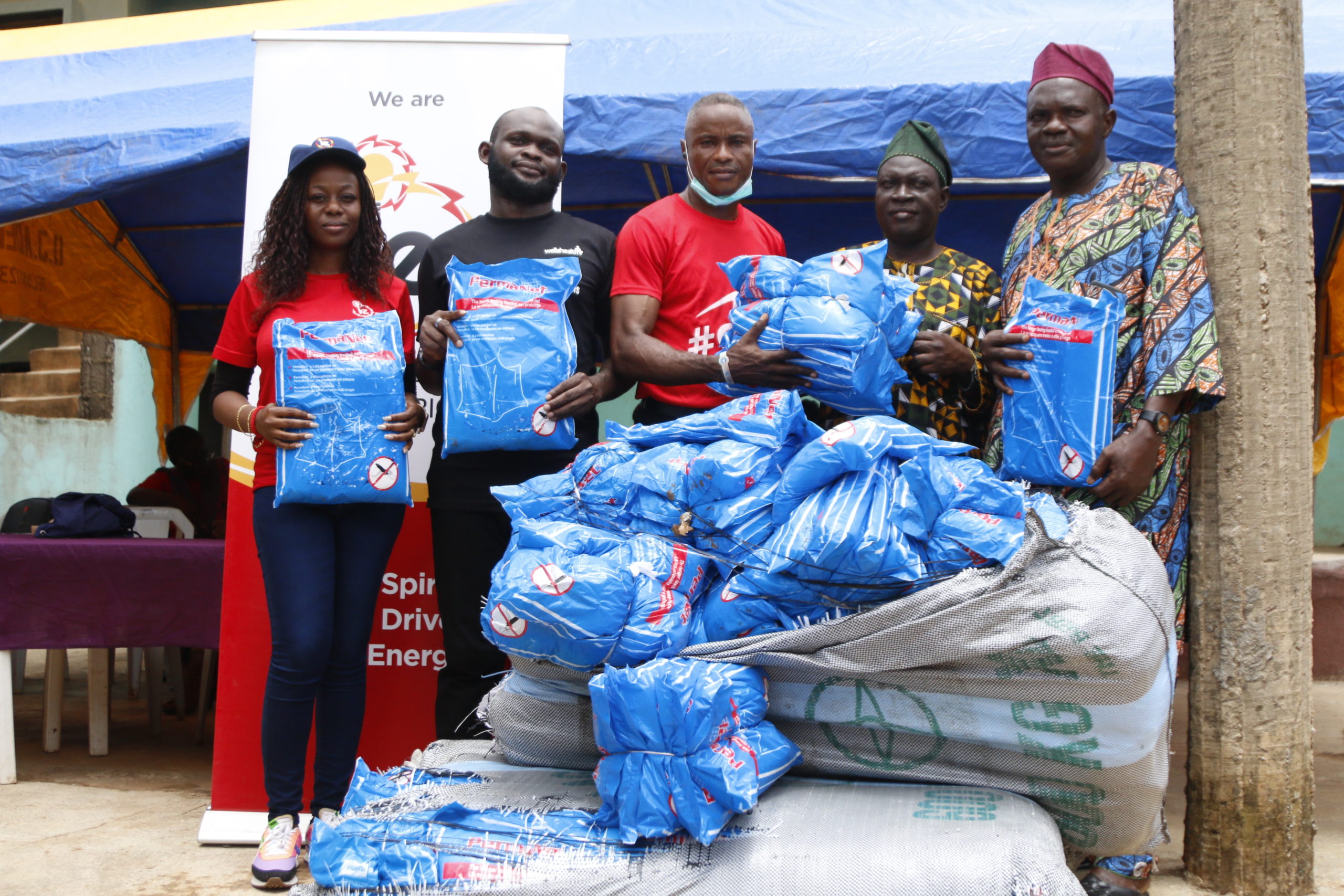 Lagos, Nigeria: 25th April 2022: Ikeja Electric, Nigeria's leading electricity distribution company, has been applauded by customers for providing free health maintenance plans and insecticide-treated mosquito nets for hundreds of people in various communities in Lagos in commemoration of this year's World Malaria Day.
The DisCo partnered with Wellahealth Health Maintenance Organization (HMO) to enlighten customers on ways of preventing malaria diseases and also provide free treatment for Malaria infection.
At the sensitization programme held to commemorate World Malaria Day held at Oworoshoki under Shomolu Business Unit, the Baale of Golugo, Oworoshoki, Chief Emmanuel Luwa said: "Some people take malaria infection for granted, but the disease is deadly and it affects women and children in Nigeria. Therefore, what Ikeja Electric has done here is to strengthen our health by preventing Malaria infection. We really want to thank the company for giving us the mosquito nets and health plan which gives many people access to free treatment for Malaria."
At Bayeku community in Ikorodu where the programme also held, Mrs. Bello Kadijat Balogun, one of the people who attended the event expressed gratitude to Ikeja Electric for donating the mosquito nets and health plan to the resident. She said: "We are happy that Ikeja Electric came to our community in order to sensitize us, especially nursing mothers. The materials given to us will go a long way in preventing our families from Malaria infection considering the fact we are now in the rainy season and some of our communities are prone to malaria infection because of stagnant water. We are grateful to the company for this generosity."
At Aiyetoro-Itele under Akowonjo BU, the Vice-Chairman Ado Odo-Ota Zonal Community Development Committee (CDC), Ogun State, Hadji Prince Olatunji Onolapo, praised Ikeja Electric for remembering the customers and bringing an intervention programme in order to support the community.
Speaking on Ikeja Electric's Corporate Social Responsibility (CSR), Head of Corporate Communications, Felix Ofulue said: "As a responsible company we are very interested in the welfare of our customers, that is why we continuously support them through various intervention programmes such as this.
"What we have done differently this year was to provide insecticide-treated mosquito nets and free HMO plan to further support our customers towards defeating malaria disease, especially in rural communities. "Some of our customers reside in riverine areas making them prone to malaria infection. We know their plight, that is why as a customer-centric organization we collaborated with Wellahealth HMO to combat the disease in line with the 2022 theme for World Malaria Day, 'Harness innovation to reduce the malaria disease burden and save lives."
At Akowonjo, Collins Jacobs, Business Development Lead for Wellahealth HMO advised customers to always give attention to their surroundings by maintaining a clean environment that is free of stagnant water, and that sleeping under insecticide-treated mosquito nets is one of the ways of preventing malaria infection. He urged the customers to always seek prompt medical attention when they feel signs of infection.
Other sensitization programmes were held simultaneously at Akute in Abule-Egba, Ogba in Ikeja, and Ejigbo in Oshodi Business Unit.
-END-